NR No. 23-34
Contact: Loree Levy/Aubrey Henry
916-654-9029
mediainquiries@edd.ca.gov
Online web portal highlights top in-demand jobs in all 15 regions of the state
NOTE: Broadcast-quality soundbites and B–roll available for media use
SACRAMENTO — In recognition of Labor Day, EDD is releasing the annual California jobs report with data on high-demand jobs and information about many programs and services that help connect job seekers with hiring employers.
"California continued its strong job growth over the past year," said EDD Director Nancy Farias. "EDD will continue to work closely with workforce development partners across California to support workers and employers."
To provide job seekers easy access to helpful information and tools, EDD has posted its 2023 Labor Day feature page showcasing the top five in-demand middle-skill* occupations in each of the state's 15 economic regions, as well as infographics and videos that illustrate those occupations. The page contains information and tools to help job seekers find which industries are hiring, where those industries are concentrated, and what kinds of training may be required.
The feature page also provides helpful links to resources for job seekers and employers, as well as several video and written success stories illustrating how EDD can connect them with the help of California's workforce development system.
One of those stories focuses on Information Technology (IT) specialist Sage Robins, who was faced with sudden and unexpected unemployment when her former IT firm was shut down. Through EDD and a local workforce development partner, she received assistance in developing her resume and professional skills, and in identifying potential employment fits, which led to her landing a new IT position with a Palo Alto-based software company. Such employment connections occur on a daily basis throughout the state.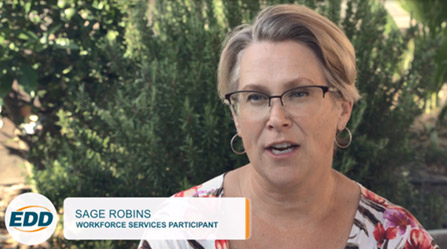 Jobs Driving the State's Economic Growth
The EDD is also releasing its annual California Jobs Market Briefing, which highlights labor market trends and identifies the industries driving the state's ongoing labor force expansion. California has maintained strong post-pandemic job growth, averaging over 35,200 nonfarm jobs gained per month in 2023, and completely recovering key industry job totals that had bottomed out during the Pandemic. The state has completely recovered the approximately 2.7 million jobs lost during that period, and in some industries, eclipsed job growth gained before the Pandemic. California's economy now includes more than 18.1 million jobs as of July 2023 – a total of 443,500 more jobs in the state than were in place prior to the pandemic outbreak.
EDD's Labor Day feature page includes:
The 2023 California Jobs Market Briefing, which details current labor market conditions and job projections in the state.
Top 5 in-demand entry-level, middle-skill*, and high-skill occupations for each of these 15 regions of the state:
*Occupations that require either some college, postsecondary non-degree award, associate's degree, or on-the-job training.
Video and text-based success stories that illustrate how EDD and its workforce development partners have connected qualified job seekers with employers looking to hire.
America's Job Center of CaliforniaSM Locations where job seekers and business owners can access the local no-fee employment services and training resources of the state's workforce development system.
Resource Tools for Job Seekers and Employers that can help each easily access assistance with job search, training, and recruitment needs.
Media Video Package with broadcast-quality videos featuring examples of how job seekers have successfully connected to employers by using the assistance of local workforce development services in San Luis Obispo, Riverside, and Santa Cruz Counties. Contact the EDD Media Services Office for broadcast quality video at MediaInquiries@edd.ca.gov