NR No. 20-08
Contact: Loree Levy/Aubrey Henry
916-654-9029
mediainquiries@edd.ca.gov
IMPORTANT NOTE: This news release reflects employment data for the month of February 2020, taken from the survey week of February 12th, and predates any of the current economic impact created by COVID-19. Data for the survey week including March 12th is scheduled for release on April 17th.
Employers added 29,000 nonfarm jobs as record job expansion continued
SACRAMENTO – California's unemployment rate remained at its record low of 3.9 percent in February as the state's employers added 29,000 nonfarm payroll jobs, according to data released today by the California Employment Development Department (EDD) from two surveys. The job gains in February contributed to a record job expansion in California of 120 months, surpassing the long expansion of the 1960s. California has gained 3,425,700 jobs since the current expansion began in February 2010, accounting for 15.0 percent of the nation's 22,846,000 job gain over the same timeframe.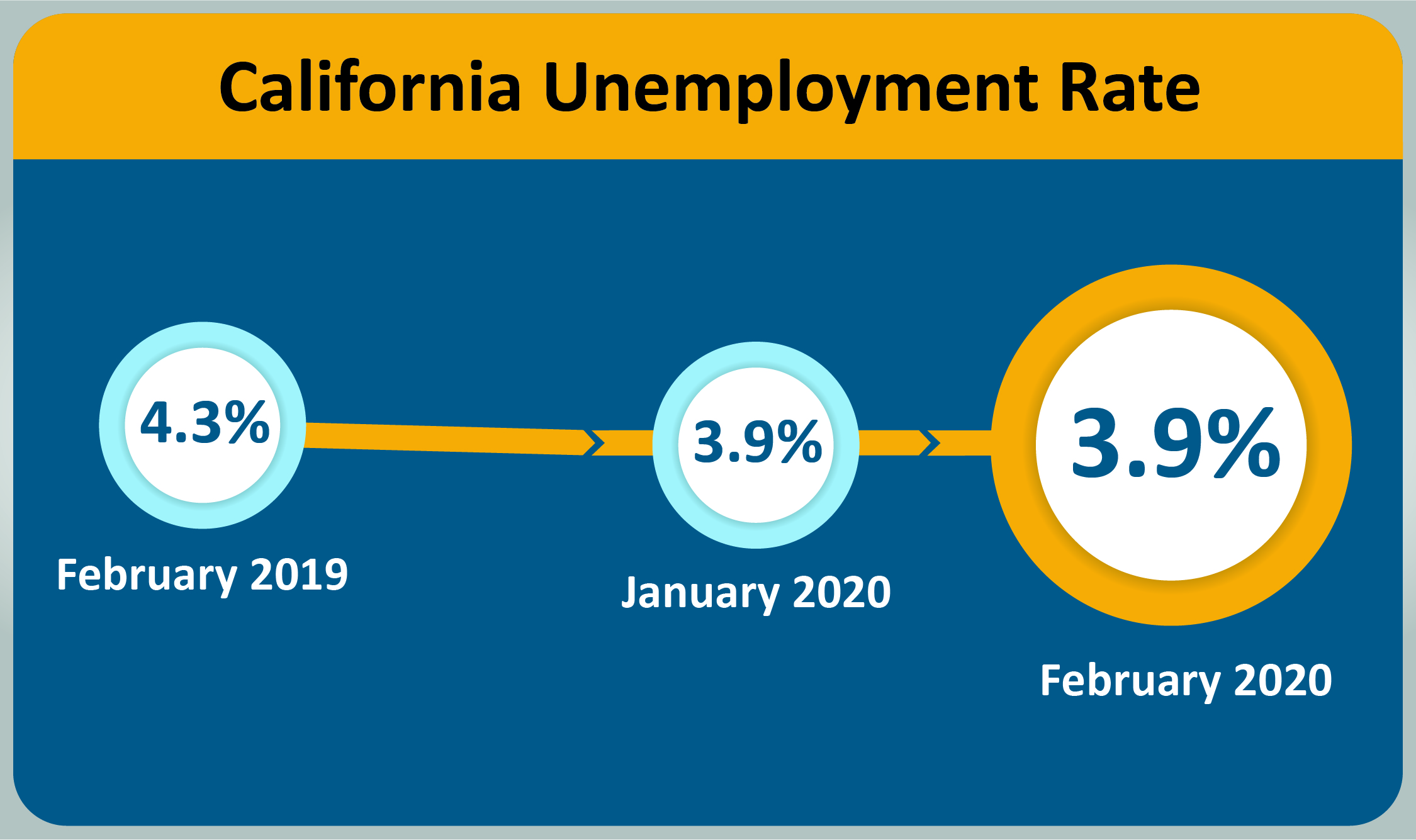 California's Labor Market, by the Numbers...
The state's unemployment remained at 3.9 percent1 in February, maintaining a record low in a data series going back to the 1970s.
California's unemployment rate has remained unchanged since August 2019 and is 0.4 percent below that of February 2019.
February's 29,000 nonfarm payroll jobs2 gain was driven by growth in eight of California's 11 industry sectors. Professional & Business Services (9,800) posted the largest jobs gain, fueled mostly by Accounting, Tax Preparation, and Bookkeeping Services. Construction (7,800) also did well with strong job gains in the Specialty Trade Contractors subsector.
Other Services' large job loss (-3,000) was fueled by Personal & Laundry Services.
1. The unemployment rate comes from a federal survey of 5,100 California households.
2. The nonfarm payroll job numbers come from a separate federal survey of 80,000 California businesses.
Data Trends about Jobs in the Economy
Total Nonfarm Payroll Jobs (Comes from a monthly survey of approximately 80,000 California businesses that estimates jobs in the economy – seasonally adjusted)
Month-over – Total nonfarm jobs in California's 11 major industries totaled 17,612,500 in February – a net gain of 29,000 jobs from January. This followed a revised gain of 29,100 jobs in January.
Year-over – Total nonfarm jobs increased by 269,000 jobs (a 1.6 percent increase) from February 2019 to February 2020 compared to the U.S. annual gain of 2,409,000 jobs (a 1.6 percent increase).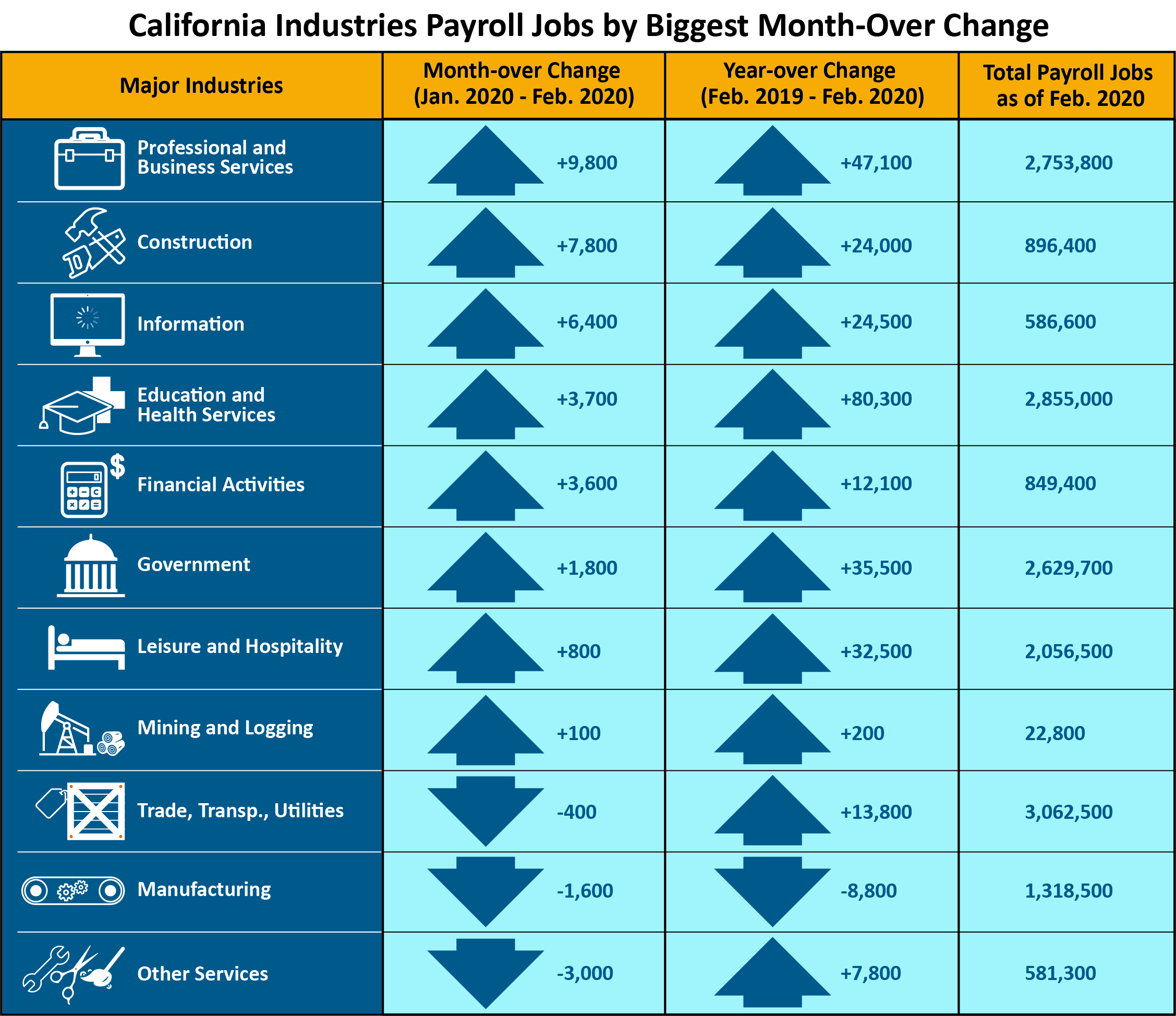 Total Farm jobs – The number of jobs in the agriculture industry increased by 300 jobs from January to 431,100. The agricultural industry has added 10,600 farm jobs since February 2019.
Data Trends about Workers in the Economy
Employment and Unemployment in California (Based on monthly federal survey of 5,100 California households which focuses on workers in the economy)
Employed – The number of Californians holding jobs in February was 18,756,900, an increase of 500 from January and up 210,700 from the employment total in February of last year.
Unemployed – The number of unemployed Californians was 759,100 in February, an increase of 5,800 over the month, but down by 68,900 compared with February of last year.

Unemployment Insurance Claims (not seasonally adjusted) In related data that figures into the state's unemployment rate, there were 372,379 people receiving Unemployment Insurance benefits during the survey week in February compared to 339,026 in January and 389,449 people in February 2019. Concurrently, 41,827 people filed new claims in February which was a month-over decrease of 3,915 people.

MONTHLY LABOR FORCE DATA FOR COUNTIES
February 2020 (Preliminary); 2019 Benchmark
NOT SEASONALLY ADJUSTED

| COUNTY | LABOR FORCE | EMPLOYMENT | UNEMPLOYMENT | RATE |
| --- | --- | --- | --- | --- |
| STATE TOTAL | 19,528,300 | 18,687,000 | 841,200 | 4.3% |
| ALAMEDA | 840,200 | 815,200 | 24,900 | 3.0% |
| ALPINE | 650 | 610 | 30 | 5.0% |
| AMADOR | 14,860 | 14,200 | 660 | 4.4% |
| BUTTE | 98,300 | 93,000 | 5,400 | 5.5% |
| CALAVERAS | 21,610 | 20,700 | 910 | 4.2% |
| COLUSA | 11,210 | 8,990 | 2,230 | 19.9% |
| CONTRA COSTA | 558,700 | 541,200 | 17,500 | 3.1% |
| DEL NORTE | 9,620 | 9,020 | 600 | 6.3% |
| EL DORADO | 92,300 | 88,900 | 3,400 | 3.7% |
| FRESNO | 454,300 | 415,700 | 38,600 | 8.5% |
| GLENN | 13,250 | 12,320 | 930 | 7.0% |
| HUMBOLDT | 62,100 | 59,700 | 2,400 | 3.9% |
| IMPERIAL | 71,500 | 59,300 | 12,300 | 17.1% |
| INYO | 8,670 | 8,330 | 340 | 3.9% |
| KERN | 396,000 | 360,000 | 36,000 | 9.1% |
| KINGS | 58,400 | 52,700 | 5,700 | 9.8% |
| LAKE | 29,100 | 27,430 | 1,680 | 5.8% |
| LASSEN | 9,780 | 9,220 | 570 | 5.8% |
| LOS ANGELES | 5,222,600 | 4,985,300 | 237,300 | 4.5% |
| MADERA | 63,100 | 57,900 | 5,100 | 8.1% |
| MARIN | 139,700 | 136,500 | 3,300 | 2.3% |
| MARIPOSA | 7,200 | 6,750 | 450 | 6.2% |
| MENDOCINO | 38,400 | 36,600 | 1,810 | 4.7% |
| MERCED | 115,600 | 103,500 | 12,000 | 10.4% |
| MODOC | 3,060 | 2,760 | 300 | 9.9% |
| MONO | 8,890 | 8,550 | 340 | 3.8% |
| MONTEREY | 216,800 | 195,000 | 21,700 | 10.0% |
| NAPA | 73,400 | 71,000 | 2,400 | 3.2% |
| NEVADA | 48,720 | 46,930 | 1,790 | 3.7% |
| ORANGE | 1,623,600 | 1,578,100 | 45,500 | 2.8% |
| PLACER | 188,500 | 182,500 | 6,000 | 3.2% |
| PLUMAS | 7,440 | 6,620 | 820 | 11.0% |
| RIVERSIDE | 1,105,300 | 1,059,700 | 45,700 | 4.1% |
| SACRAMENTO | 714,700 | 687,800 | 26,900 | 3.8% |
| SAN BENITO | 31,600 | 29,700 | 2,000 | 6.2% |
| SAN BERNARDINO | 970,200 | 933,300 | 36,900 | 3.8% |
| SAN DIEGO | 1,595,000 | 1,544,100 | 51,000 | 3.2% |
| SAN FRANCISCO | 587,300 | 574,100 | 13,200 | 2.2% |
| SAN JOAQUIN | 326,200 | 304,600 | 21,600 | 6.6% |
| SAN LUIS OBISPO | 142,500 | 138,200 | 4,300 | 3.0% |
| SAN MATEO | 463,100 | 453,300 | 9,700 | 2.1% |
| SANTA BARBARA | 215,400 | 205,500 | 9,900 | 4.6% |
| SANTA CLARA | 1,057,600 | 1,030,400 | 27,100 | 2.6% |
| SANTA CRUZ | 141,200 | 132,200 | 9,000 | 6.4% |
| SHASTA | 73,300 | 69,300 | 4,000 | 5.5% |
| SIERRA | 1,310 | 1,220 | 90 | 6.7% |
| SISKIYOU | 17,010 | 15,560 | 1,450 | 8.5% |
| SOLANO | 208,300 | 200,100 | 8,200 | 3.9% |
| SONOMA | 258,900 | 251,600 | 7,300 | 2.8% |
| STANISLAUS | 243,700 | 227,700 | 16,000 | 6.6% |
| SUTTER | 46,600 | 42,400 | 4,200 | 8.9% |
| TEHAMA | 25,750 | 24,160 | 1,590 | 6.2% |
| TRINITY | 4,460 | 4,140 | 320 | 7.3% |
| TULARE | 205,500 | 181,900 | 23,600 | 11.5% |
| TUOLUMNE | 21,570 | 20,500 | 1,070 | 5.0% |
| VENTURA | 424,100 | 408,400 | 15,700 | 3.7% |
| YOLO | 109,300 | 103,900 | 5,300 | 4.9% |
| YUBA | 30,800 | 28,700 | 2,100 | 6.9% |